Brian Cohen, champion of NYC tech, entrepreneur, angel investor, and author, was honored with the first ER Community Award on January 22, 2020. We're fortunate that he's been part of the Entrepreneurs Roundtable Community since we began hosting events in 2007.
As Founding Partner, New York Venture Partners and Chairman Emeritus, New York Angels, Brian's impact on NYC tech is extensive. He's a lifelong New Yorker who has championed startups and entrepreneurship, guiding young startups and helping them to understand the complexities of building venture businesses.
Our Host, DigitalOcean's Hollie Haggans, Opens the Evening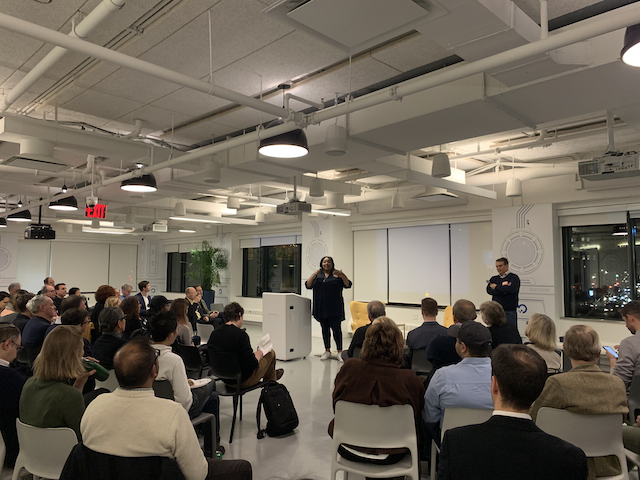 Nearly 100 attendees mingled and shared stories of Brian's insights, expertise, and endless energy.  Our host, Hollie Haggans, DigitalOcean's Global Partnerships head, opened the evening. After a welcome from Murat and Jon, Murat MC'd the evening. Speakers honoring Brian included Owen Davis, Partner at Contour Ventures Partners, who delivered remarks about Brian's many contributions to NYC tech; Comixology's David Steinberger, who reflected on the immense value of receiving investment from Brian; and David Rose, Founder of New York Angels who provided a history of New York tech all the way from New Amsterdam to Brian Cohen. Murat and Brian closed the evening with a Q&A, followed by the presentation of the award.
Comixology's David Steinberger